Goyal Orchid Greens
Orchid Greens are simple, stylish and well designed apartments. The Project comprises of both 2 bedroom and 3 bedroom apartments designed to create a harmony between Modern Architecture and Necessities of Modern Living. Efficient use of space along with Specifications and Design of the highest quality will make you fall in love with Orchid Greens.
.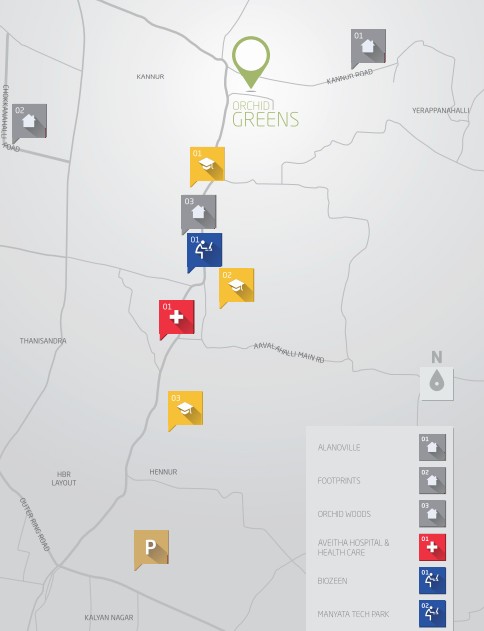 Hennur Road – Kannur Main Road belt is catching attention these days because of various reasons and one of the most important among them is the connectivity, this location is connected to the City/ORR on one side and Bellary road to the other side within a 7-8 kms stretch.
Commuting will never be a concern with an existing 80ft double road soon planned to be widened to 120ft.
Orchid Greens has been planned to provide a better living to its inhabitants with some renowned educational institutes like DPS North, Legacy School, Reva Institute of Engineering & Management Studies, Hospitals, Existing Manyata Tech Park or Kirloskar Business Park which are all in close proximity.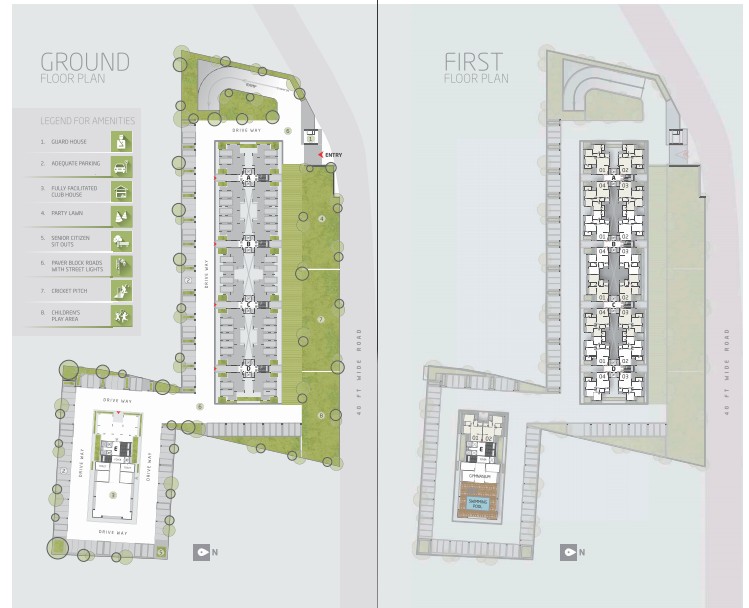 Another Advantage for Orchid Greens is the upcoming KIADB  and Aerospace Park both of which will help in increasing the employment opportunity towards this part of the city with companies like Tyco Electronics Corp India, Jupiter Aviation Services, BEML, TATA Power Company, Zenith Precision, Shell India Market, Reliance Jio, Tech-Mahendra, Tata Consulting Engineers.
Kannur Road as well as Hennur are thriving up to be the next destination in North Bangalore for people who are looking for quality homes nearby to their workplaces.
Location
Goyal Goyal Orchid Greens is located in Hennur Road – Kannur Main Road being the part of north Bangalore constitutes as one of the prime commercial destination .In recent days this region is grasping huge attention for both commercial and residential sectors and it happens to be the future real estate investment hub. Rapid progress witnessed in infrastructure development happening within the .Surrounding location of the Goya Orchid has major educational institutes which are specialized in Technical, Higher Education(Reva) It also host for Multi specialty hospitals IT and Business park. Apart from this the location is proximate to IT Hub of City, White Field which is few minutes apart from the Goyal Orchid. The Available Outer ring road and the recently completed metro adds up to the transportation convenience connecting north part to the South and East sectors of the Bangalore. Upcoming Aerospace and KIADB Park will also play a key role in enhancement of employment opportunity.
About the Builder:
Goyal & co. was founded by the late Mr. Rampurshottam Goyal in 1970 in the city of Ahmedabad. A bachelor in civil engineering from Jodhpur University, he started the company with limited means. With his heart set on a long term vision and years of perseverance, he grew Goyal & Co into one of the leading real estate development companies in Western India, both in terms of residential and commercial.
The brand has changed the skyline of Ahmedabad as well as earned the respect of the city with a legacy synonymous with excellence, innovation and transparency. Choicest locations, perfect planning and immaculate implementation have ensured value for money for it's customers. Known for delivering beyond the call of duty, Goyal & Co has systematically built on its credibility and goodwill with every project it has launched over the years. Each one being a true testament in innovation, design and construction.