Assetz 63 Degree East
Assetz 63 Degree East is a premium real estate property on Sarjapur Road. It is situated in east of Bangalore by the well known developed Assetz Lifestyle Property Group. This new pre launch offers 1BHK, 2BHK and 3BHK apartments at attractive prices. All major shopping malls and educational institutions are in close proximity to this new real estate property by Assetz Homes and can also be traveled by Namma Metro which will be ready by next year. Assetz 63 Degree East pre launch is situated in  the fastest developing area with the IT hubs round the corner. This property is very connected also to the city center and to the airport as well.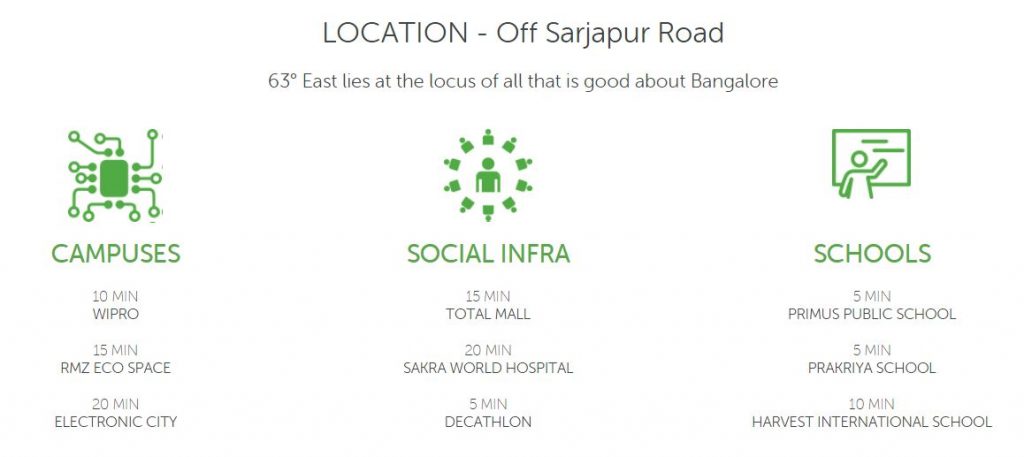 Assetz 63 Degree East Highlights
This project is located in Sarjapur road which is the fastest growing area with residential and commercial infrastructure in Bangalore East.
The outer ring roads, national highways and other transport facilities are very convenient from this pre launch property.
This property also offers world class amenities like ATM service, play area, squash courts, tennis courts and many more.
Assetz Lifestyle 63 Degree East is a unique residential venture, created with the theme of providing complete residence to their beloved customers who has joined in hand-hand in all these years and to providing respect to the expectation held by the forth ones who joins us in the future .In order to achieve this we are always striving to give the best design suitable for every class and providing various options to them in order to choose best among them.
Along with the Design we are also aware of the surrounding changes happening in the system and always ready to incur the novel technologies needs to be included in every stage and part of the material which eventually form the essential component of final outcome.
Best quality amenities along with the standards material will be included in every part of the project with equal importance given to improve the elegance of the internal and the external complexion of the residential units with all possible decors preinstalled in them along with the provisions reserved for any customization needed according to the residents.
About Assetz Lifestyle
At Assetz Lifestyle, we are driven not by the need to create more, but to design better. In an industry where design is often narrowed down to aesthetics, every component of our properties is led by design. Our focus on design in every detail enables us to create properties that are true assets for families and businesses that prosper in them.
Founded in 2006, Assetz Life Style is primarily in the business of real estate development and business portfolio management with a secondary focus on infrastructure development in the Asia region. Assetz Lifestyle develops projects across commercial, residential and mixed-use asset classes. Besides our history of developing buildings to house many multinational commercial office tenants which has established the business with clear robust systems, transparent processes, and an eye for detail with a belief that conventions should be challenged, our focus has also been to elevate our customers lifestyles.