Bhartiya City Nikho Homes
Bhartiya City Nikoo Homes is a new creation of the reputed real estate builder, the Bhartiya group. This project is done by using the latest technologies and hence consider the most admirable address offering excellent facilities to each and every resident.It was located in Thanisandra main road, Bangalore.
Bhartiya City Nikoo Homes widely spread over 126 acres of land having the facilities of Sports, Schools, Hotels, World-Class Hospitals and delightful 300 greenery enclosures and living with a sky park and jogging track on the 33rd level, exclusively designed classical club houses for the East and West towers of the project. The project covers around the facilities of charming gardening on floors, classical Tree house, and convenient for the IT professionals.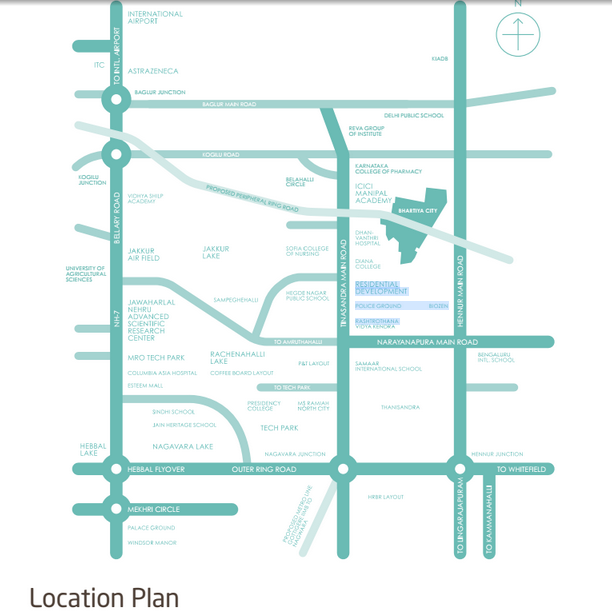 In this project all the amenities and luxury of living is not just a smartly designed home, but in the most desirable environs of bhartiya city. Nikoo home have the five elements for happy living such as community, culture, family, learning and wellness.It is a advantageous location Thanisandra main road near sobha city it is just only 3.8 kms away from Manyata techpark 6.8 kms Hebbal Flyover, 9 kms for Mekhri Circle, 18 kms form city Railway Station and 23 kms from International Airport.
The city is a welcome change for anyone who shares this sentiment. To begin with, there are ten different spreads of homes you can pick from. There's a good chance there's one that matches your needs perfectly.You can mix and match these homes to further fine-tune your living spaces. And then we have a furniture solution for each home that will compel you to rethink your notions about furniture. Simply put, it will change the way you live. Every piece comes from the finest practitioners of the art of furniture-making in Italy.
This City is the labour of love of a visionary, who with a handpicked team of architects from all over the world decided to make a little haven out of a piece of land 126 acres wide. It's called 'City of Joy' for a reason. Once you move in, you'll get accustomed to the finest shopping and entertainment. You'll find hotels, office spaces, schools, a world-class hospital, sports facilities, some 300 gardens – all minutes away from your Nikoo home. This fantasy is getting real as we speak.
Bhartiya City Nikoo Homes having elegant 1 BHK, 2 BHK &3 BHK homes with penthouse. Unique features in penthouse are the private desks, bay windows and excellent Italian kitchens. The apartment with 1 BHK villa ranges around 620sqft and 895sqft. The apartment with comfort 2BHK viila ranges around 985sqft and 1106sqft. The apartment more comfort 3BHK villa ranges around 1411sqft and 1768sqft.
About The Builder
Unlike most people in realty, Bhartiya comes from a background of design. During the course of our evolution, we struck upon a simple truth: good design makes people happy. Be it a well cut, flattering jacket or a thoughtfully built house. To go from one to the other was to take us two decades.
For our founder, this was not a rhetorical question. His answer was to build a whole city, to design a whole way of life. That vision is Bhartiya City. Bhartiya City has brought together architects and urban planners of international repute.